Protecting your business on the open road.
Trucking insurance made easy.
Does your company make use of commercial trucks? If so, you may need to consider commercial trucking insurance, which covers more risks than your typical auto insurance would.
Bigger risks require broader coverage.
Compared with ordinary auto insurance, commercial trucking insurance needs to cover not just bigger risks, but a wider range of risks. The potential costs of damage to property and medical bills are higher simply because a truck can have a bigger impact in a collision. Meanwhile, you'll also need to be covered for the potential loss of, or damage to, cargo.
Insurance unique to your trucking operations.
The principles behind commercial truck policies are simple enough, but be prepared to answer a lot of questions about the type of people you have operating the trucks, the type of cargo they carry, and the expected mileage during the year. Your coverage needs could also change depending on whether you cross borders into other jurisdictions.
Click it. Read it. Cover it.
Click on the hotspots.

Discover your risks.

Get the right coverage.
Commercial Trucking Insurance
Risk Factor
The type of trucking insurance you need can vary based on a number of factors. Private carriers who are hauling goods in their own truck or for an employer will need insurance designed for private trucking. Owner-operators will have different needs depending on whether they are operating under their own authority or under permanent lease to a motor carrier.
Solution
Having the right insurance for the situation is essential. For example, an owner-operator under permanent lease to a motor carrier may have their primary liability insurance provided by the motor carrier. However, there are other coverages they'll want to consider. Additionally, the type of truck, driver experience, and goods hauled can all affect coverage needs as well.
Garagekeepers and On-Hook
Risk Factor
Tow trucks carry a unique risk involving the property of someone else. The tow truck could be involved in an accident and the vehicle it is towing could become damaged. Also, it's not unusual for a towed vehicle to be stored overnight at the garage of the towing company. In either scenario, special insurance is needed to cover the towed vehicle.
Solution
On-hook insurance provides protection in the case of damages to a vehicle while it is being towed. Garagekeepers insurance would cover losses sustained when a vehicle is being temporarily stored at the towing company's location.
Bobtail Insurance
Risk Factor
Sometimes a truck is driven without a trailer attached. This could include when the driver is on their way to pick up a load, has just dropped off a load, or is in between loads. When a truck is driven this way under someone else's trucking authority, a coverage gap can exist if the truck is involved in an accident and found liable for bodily injury or damage to property.
Solution
Bobtail insurance is a liability policy that provides coverage for legal fees, damages awarded, and medical expenses for times when a truck is driven under someone else's trucking authority and there is no trailer attached.
Non-trucking liability
Risk Factor
Trucks that are under permanent lease to a motor carrier are typically covered under their liability coverage, which offers protection when the truck is used for business purposes. But what happens if the truck is involved in an accident and is liable for damages caused while being driven for non-business purposes?
Solution
Non-trucking liability insurance offers protection when a truck is driven for personal reasons, for example while running personal errands on a day off. It covers medical expenses, property damage, and legal fees related to the driver.
Trailer Interchange
Risk Factor
There are times a trailer needs to be handed off from one trucker to another to finish the shipment. The contract that arranges this transfer is known as a trailer interchange agreement. The parties to this agreement would need trailer interchange insurance.
Solution
If a trailer is damaged, the trucker currently in possession of it would be responsible for them. Trailer interchange insurance offers protection for these damages for the period of time the policyholder is in possession of the trailer.
Rental Reimbursement With Downtime
Risk Factor
A truck that's been damaged in an accident will need to be taken off the road for repairs. When the truck can't be used, the business will lose money.
Solution
Rental reimbursement with downtime may cover the cost of truck payments and other bills while the truck is inoperable due to a covered loss. It may also provide reimbursement for a temporary replacement truck.
Motor Truck General Liability
Risk Factor
Owner-operators under their own authority and motor carriers can find themselves responsible for their mistakes. A customer injury, a delivery mistake or damage to goods, or damage to property caused by their truck or the actions of a driver can all be very costly.
Solution
Motor truck general liability insurance may provide coverage for bodily injury and property damage, personal or advertising injury, and other damages caused by the company's own negligence.
Motor Truck Cargo Insurance
Risk Factor
For-hire truckers are often hauling something for someone. For the time that the freight or goods are in the possession of the trucker, the trucker is responsible for any damage to the goods. Whether the goods are damaged in a collision, are spilled off the truck, or damaged during loading and unloading, the expenses associated with this damage can add up fast.
Solution
Motor truck cargo insurance, sometimes simply referred to as cargo insurance, may cover the cost of the damaged cargo, removal expenses if the cargo is spilled, lost cargo, legal fees, and freight charges if the cargo is not delivered.
Physical Damage
Risk Factor
If a truck is damaged in an accident and another driver is not held liable for these damages, the truck's owner would be responsible for the repairs. The truck's owner would also be responsible for damages caused in other ways, such as if something falls on it, it is vandalized, it catches fire, or it is stolen.
Solution
Physical damage insurance covers the cost of repairs to your own vehicle if it's damaged by you or it is damaged by some other factor that you cannot be held responsible for. For vehicles that are owned outright, this coverage may be optional. However, if the truck is being leased or financed, this coverage may be required by the bank.
Ensure your coverage meets and exceeds all standards.
Discounts may be available based on factors such as your staff holding commercial driver's licenses, or your business being well-established. You should also check to see if your policy provides for government filings, which may be necessary to verify your coverage meets specified standards.
For more details on covering your commercial trucks, contact us today.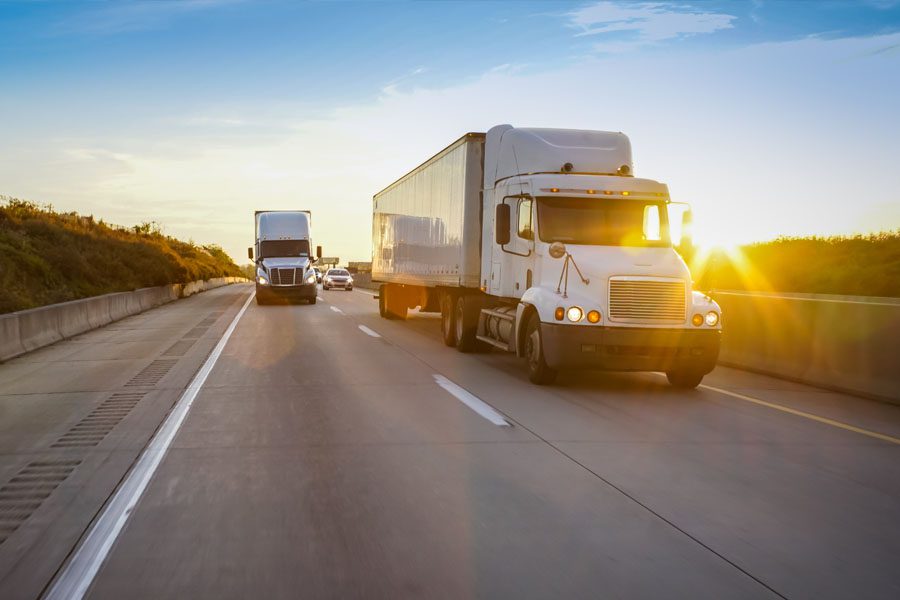 Get Started Today
As an independent agency, we are here to help you find the right Trucking Insurance coverage.
Get a Quote
  Trucking Insurance Quote Request
As an independent agency, we are here to help you find the right coverage.
Get a Quote
It only takes a minute to get started.
Fill out the form, we'll be in touch.

Review options with an agent.

Get the coverage you need.
Would you rather discuss this in-person? Get in touch with an agent today!